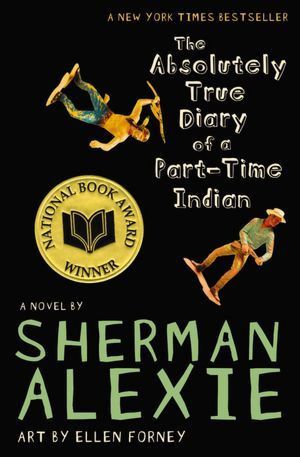 This novel is introduced by no less than 4 pages of praise and rewards. That's a pretty impressive achievement, especially for a young adult novel, because this is what The Absolutely True Diary is, although I didn't realize that when I picked it up. Plenty of adults seem to have read and enjoyed it though, and I'm one of them.
The Absolutely True Diary reads very quickly (unlike its title, haha.) Its direct and uncomplicated prose is even interspersed with illustrations by artist Ellen Forney. Its story is the one of Arnold Spirit Jr. (or simply "Junior"), a young Indian who suffers from a variety of physical disorders that range from a hydrocephalus to a surplus of teeth (yes, you read that right) to a lisp AND a stutter. His quirks make Junior easy prey to all kinds of bully in the reservation where he lives. On top of that, despite his intelligence, school can hardly be a consolation as it is badly run and awfully underfunded.
Consequently, Junior decides to attend the neighboring white town's school, which is enough to send shockwaves through the rather autarkic reservation. Junior's incredible resilience will from then on be put to test by such ordeals as cultural shock, racism and rejection from his peers but also by the saddening events that often coincide with life on the reservation.
Alexie's major accomplishment here consists in being truthful and astute while favoring a straightforward story arc and simple prose. In that way, The Absolutely True Diary is akin to some of youth literature's best productions.
/
La liste des récompenses et des éloges accumulés par Le Premier qui pleure a perdu occupe pas moins de 4 pages au début du livre. Pas mal pour un roman de jeunesse! Parce que oui, même si je ne m'en suis pas rendu compte au moment de l'acheter, Le Premier qui pleure a perdu est, techniquement, destiné aux adolescents. Il n'empêche qu'il a été lu (et apprécié) par nombre d'adultes, moi y compris.
Ce roman se lit très rapidement du fait de son ton direct et pas prise de tête et de la présence d'illustrations réalisées par la dessinatrice Ellen Forney. Il raconte l'histoire d'Arnold Spirit Jr. (surnommé "Junior"), un jeune Indien qui souffre d'une profusion de troubles de santé allant d'une hydrocéphalie à un excès de dents (oui, vous avez bien lu) en passant par un zozotement ET un bégaiement. Ces défaillances font de Junior la cible de toutes les brutes de la réserve indienne où il vit. Encore pourrait-il compter sur son intelligence pour se changer les idées, mais, malheureusement, son école est si pauvre et mal organisée que même en cours il a l'impression d'être dans une impasse.
Du coup, Junior décide de changer d'école pour fréquenter celle située dans la ville voisine et dont les élèves sont exclusivement blancs, une décision qui suffit à jeter le trouble dans la réserve. La ténacité de Junior va être mise à l'épreuve par les difficultés qui s'ensuivent. En plus des événements tragiques qui rythment le quotidien de la réserve, Junior doit désormais aussi faire face à un véritable choc des cultures, au racisme de ses nouveaux camarades et à l'amertume de ses pairs qui voient en lui un traître.
La prouesse de Sherman Alexie, c'est d'être parvenu à écrire un roman sincère et lucide tout en se tenant à une histoire et un langage simples. C'est ce qui fait que Le Premier qui pleure a perdu est certainement à placer parmi les meilleurs romans de jeunesse qui soient.