A Colorful Glass Structure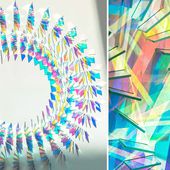 Dichroic Glass Installations by Chris Wood Reflect Light in a Rainbow of Color
Cambridge-based artist Chris Wood (previously) continues to produce stunning light sculptures utilizing panels of dichroic glass that refract light in a vivid array of color. Her works have appeared
http://www.thisiscolossal.com/2017/02/new-geometric-dichroic-glass-installations-by-chris-wood/
A Website
The definitive resource for contemporary art and culture, including On View: your guide to the best exhibitions at the leading galleries and museums around the globe.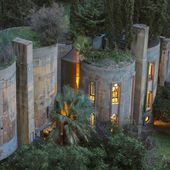 Architect Turns Old Cement Factory Into His Home, And The Interior Will Take Your Breath Away
When Ricardo Bofill stumbled upon a dilapidated cement factory in 1973, he immediately saw a world of possibilities. La fábrica was born, and almost 45 years later, the structure has been completely
http://www.boredpanda.com/cement-factory-renovation-la-fabrica-ricardo-bofill/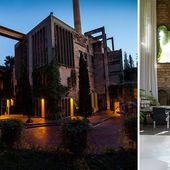 Architect Ricardo Bofill's Abandoned Cement Factory Residence and Studio
In 1973 Spanish architect Ricardo Bofill stumbled upon a cement factory in Catalonia, Spain, an enormous compound of silos and buildings that covered nearly two and a half miles of underground ...
http://www.thisiscolossal.com/2017/02/architect-ricardo-bofills-abandoned-cement-factory-residence-and-studio/
An Artist/ Une Artiste
A Song/ Une Chanson:
Glass Animals - Pork Soda
Des "Tours Eiffel" alternatives
Les plans de Londres en 1890 pour rivaliser avec la Tour Eiffel
En 1890, quelques anglais se sont aperçus que la Tour Eiffel était devenue un atout important pour la France et pour Paris, notant au passage que ses visiteurs avaient déjà rapporté plus que l...
http://www.laboiteverte.fr/les-plans-de-londres-en-1890-pour-rivaliser-avec-la-tour-eiffel/
Un magazine en ligne
Les Intelloes - Je suis (im)pertinente
Je suis (im)pertinente
Une Question
Mais où sont passés les magazines hip-hop français?
Comme l'atteste le classement des meilleurs albums de 2016 de nombreux médias, spécialisés ou non, le hip-hop est unanimement reconnu comme le genre le plus inventif, le plus imprévisible et le...
See you next week!/ A la semaine prochaine!